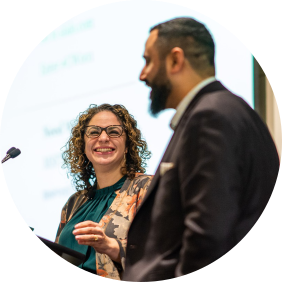 Inspiring. Empowering. Engaging.
Keynote speaking for your industry event, company kickoff or team offsite, delivered in-person or virtually.
Let's Chat
Speaker Bios
Michael Hanna

Michael's 25 years of public speaking and entertainment are complimented by 19 years in Revenue Operations leadership for high-growth companies. With his background as a motivational speaker, event host, musician and stand-up comedian Michael delivers a unique experience that will have your audience learning and laughing!

His experience with major high-growth success stories include Shopify, Intuit, UPS, Eloqua (Oracle Marketing Cloud), and Clio. Having seen every stage of business growth from early inception to market dominance, Michael has learned where companies get stuck and how to break through those ceilings.

Michael will challenge your audience to think differently about personal growth as leaders, and revenue growth as companies.

Dana Hanna

Dana brings over 22 years of public speaking experience. Having trained thousands of leaders around the globe, Dana will have your audience enlightened and inspired.

With a focus on personal transformation and societal transformation, Dana speaks to the heart and mind of her audiences with authenticity and conviction. Her work with leaders across the globe in Education, Government, Business and Community Services have helped shape her perspectives and insights. Dana has proven again and again that regardless of the situation in your home, your organization or your city, positive change is possible and you can make a difference.
Sample Topics
Topics and content can be customized to maximize relevance for your audience. Here is a sampling of topics that can be covered:
Navigating Change
Inspiring Resilience Through the Change Process
Stages of Organizational Growth and Maturity
How to Inspire Trust with Your Customers
How to Inspire Trust with Your Stakeholders
The Power of Understanding Seasons
How to Nurture an Authentic Team Environment
Systems that Scale