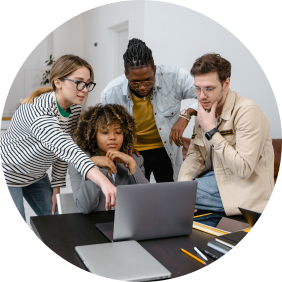 Authenticity. Trust. Impact.
Nurturing a safe environment where people can be themselves sets the stage for accountability, growth and impactful work.
Let's Chat
Services
Career Development Toolkit

We'll help you develop a clear and simple project management framework to keep your teams executing and communicating effectively on key initiatives.

Project ownership and sponsorship
Stakeholder buy-in
Resource commitment
Roles and responsibilities
Project setup
Tooling and tracking
Progress and communication
Decision-making and escalations
Train project management champions within each function
Employee Engagement Strategy

We'll facilitate your end-to-end planning process to keep your leadership team aligned and on schedule. We'll essentially oversee the execution of your Strategic Planning Playbook.
Performance Management Playbook

We'll work with your Sales, Finance, Revenue Operations and HR leadership to design all elements of your Sales Planning.

Feedback and research
Sales role definitions
Territory design
Quota setting
Policy updates
Compensation plan design
Compensation plan document creation
Communication strategy